L'Espace géographique 3/01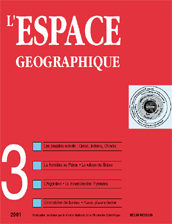 ---
Michel BRUNEAU. World peoples in a long-term perspective: the Greeks, Indians and Chinese (8 fig.)
The Greeks, Indians and Chinese are presented here as world peoples in a comparative long-term perspective, assisted by graphic modelling of their spatio-temporal trends, combining the continuity of a core identity and the discontinuities between different countries and successive diasporas. The comparison is also based on spatial models of central spaces, pericentral spaces, attractive areas and diasporas in the form of a map and of growth rings. Aside from their differences, these three peoples have a global dimension stemming from the combination of a core identity, subcontinental and maritime spaces where their presence has spread over the long term, and a diaspora in Europe and the New World. These world peoples play an active role in globalisation processes at the heart of the megalopolises of Asia, Europe and the New World.
keywords: CULTURE, DIASPORA, GLOBALISATION, NATION-STATE, PEOPLE, SPACE-TIME MODELS, SPATIAL MODELS
---
Peru's borders: between fronts and synapses (6 fig.)
In the current context of the changing function assigned to borders in Peru, a review of existing border situations seems useful. Field observations indicate that some situations are sufficiently recurrent for models to be constructed. Non-sequential interpretation of these models offers a clearer view of the territorial dynamics at work in border zones that could direct public action towards the promotion of specific processes.
keywords: BORDERS, CONCEPTS, PERU, SPATIAL MODELS, TERRITORIAL DYNAMICS
---
Argentina, a model to be constructed (4 fig.)
This paper analyses numerous graphic modelling methods –a more general term than choremes– developed from Roger Brunet's theoretical positions. An examination of these applications makes it possible to define practical rules: mainly the use of a neutral geometrical basis and the identification of elementary structures, which are combined to describe spatial organisation. These principles are applied to Argentina, where six basic models describing six fields are identified. Their graphical combination provides an accurate picture of Argentina's spatial organisation and their logical combination offers a tool for regionalisation.
keywords: ARGENTINA, CHOREMES, MODELS
---
Abdallah FARHI. Primacy and counterweights: the wilaya (province) of Biskra (5 fig.)
Algerian cities suffer from numerous afflictions stemming from poor diagnosis, including homelessness, ruralisation and congestion. The concentration of investment in the main town of each wilaya has led to two-tier urbanisation and primate distribution. This process is analysed in Biskra, which is no longer able to meet the needs of the population of its wilaya. Where can possible counterweights be found and where should future investment be located? Seeking answers to these questions leads us to consider the micro-regional area and to transcend administrative boundaries.
keywords: BALANCE, CONGESTION, MICRO-REGION, PRIMATE DISTRIBUTION
---
Éric CROUZET. The economic geography of offices: urban organisation in question
Since the early 1960s, Western countries have experienced a new stage in the process of integration of office activities into the economy. The number of office workers has risen sharply, while a property market has developed offering mainly rental and speculative products, including property schemes in urban peripheries. This trend challenges the position of the city centre, formerly the exclusive space of office activities. Is this the symbol of the general decline of city centres, or rather a classic market process, expressing tensions between supply and demand for central space and accentuating the specialisation and selectivity of the city centre? The hypothesis in this paper is that the geography of offices is more strongly determined by the logic of the property market (the interests of property developers, investors and marketers) than by conventional factors of location of user enterprises.
keywords: CITY CENTRE, METROPOLISATION, OFFICES, PROPERTY MARKET
---
Factors in road location: the Pyrenees crossing in the Ariège Valley (1 fig., 1 photo)
This paper examines trans-Pyrenees infrastructure development in the Ariège Valley to determine the influence of the mountain chain and the spatial layout of landforms on road location and construction. The minor influence of landform components suggests that relief is not a major obstacle for road network development. Political and economic considerations are much more important.
keywords: ARIÈGE VALLEY, GEOMORPHOLOGY, LANDSCAPE, PYRENEES, REGIONAL PLANNING, RELIEF, ROAD INFRASTRUCTURE
---
Laurent GRISON. Main city square: the staging of the Republic (1 fig.)
In 1958, de Gaulle and his supporters staged the presentation of the Fifth Republic in Paris. A geographical study of this institutional celebration marked in space offers makes it possible to read and describe a referential system of the Republic and an urban spatio-emblematic network.
keywords: JUNCTION, MAIN SQUARE, REFERENTIAL SYSTEM, REPUBLIC, URBAN SPATIO-EMBLEMATIC NETWORK
---
Book reviews
Looking for the human dimension of geography (H. Clout)
À propos de quelques manuels récents de géographie des villes (Th. Saint-Julien)
I like to be in America! (H. Clout)
Méditerranée et géographie (J. Charre)
---
In this issue of l'Espace géographique, you will find critical reviews of the following books
BÉTHEMONT Jacques (2000). Géographie de la Méditerranée. Du mythe unitaire à l'espace fragmenté. Paris: Armand Colin, 313 p.
BRUYELLE Pierre, coord. (2000). Les Très Grandes Concentrations urbaines. Paris: SEDES.
GOUSSOTMichel (2000). Les États Unis dans la nouvelle économie mondiale. Paris: Armand Colin, Coll. «Géographie», 352 p.
GOUSSOT Michel (2000). Les Grandes Villes américaines. Paris: Armand Colin, coll. «Géographie», 192 p.
HAGGETT Peter (2001). Geography: A Global Synthesis. Harlow, UK: Prentice Hall/Pearson Education. 834 p.
PAULET Jean-Pierre (2000). Géographie urbaine. Paris: Armand Colin, coll. «U», 315 p.
PAULET Jean-Pierre, coord. (2000). Les Très Grandes Villes dans le monde. Paris: CNED-SEDES, 240 p.
---
L'espace géographique 2/01


L'espace géographique 4/01
For subscribe or buy this issue: BELIN

L'Espace géographique: contents
---
Last modified: August 18, 2001