L'Espace géographique 3/98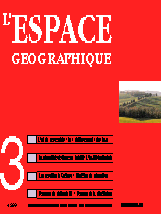 ---
Pierre DONADIEU. From a desire for countryside to the art of landscaping (2 phot.)
One of the consequences of urban culture in the West is a change in the social relationship with the countryside. Considered primarily as a landscape given over to leisure and habitation, today the countryside in France is the object of numerous projects aimed at adapting it to new social expectations. This article will outline how this aspect of landscape has been interpreted by scientists and landscape managers and designers. It will also highlight the role landscape architects can play in yhe rural-urban fringe, in creating new types of countryside, both with and for farmers and city-dwellers. This change in the social make-up of the countryside carries a latent conflict between planners and inhabitants.
keywords: AGRICULTURE, COUNTRYSIDE, LANDSCAPE, LANDSCAPE ARCHITECT
---
Territorial justice (1 tabl.)
From the angle of public utility networks and their impact on spatial organisation, the concept of territorial justice gives us an insight into regional planning objectives and mechanisms. In France, the Regional Planning Act of 1995 raised many questions about future developments in the context of economic recession, European integration and growing social inequalities. The specific French model of public utilities is threatened by the opening of markets to competition and an emphasis on economic efficiency. Redistributive mechanisms implemented by the State to guarantee universal access to services provided by public utilities are now denounced in the name of cost pricing. The social and territorial effects of such policies are raising the issue of regulation capable of reconciling equity with efficiency.
keywords: EFFICIENCY, EQUITY, NETWORKS, PUBLIC UTILITES, REGIONAL PLANNING
---
In search of a geometry of inhabited space in the works of Camille Vallaux, Jean Gottmann and Gilles Ritchot (2 fig.)
Discontinuities in geography can be understood as the different possible ways of disrupting the continuity of lived space. The analysis of geographical continuity, partly produced by human activity, requires a topological model of geographical space that cannot be based on simple geometry. A comparative study of the original theories of Camille Vallaux (1870-1945), Jean Gottmann (1915-1994) and Gilles Ritchot (b. 1935) reveals a common vision in their models of inhabited space. This vision can be described as a physical substratum covered by two layers –one generated by political movement, the other by economic circulation– which are linked by a core of social relationships. This common model leads the three authors to a general typology of geographical singularities and breaks, which in turn forms the basis for their analysis of spatial structures.
keywords: DISCONTINUITY, EPISTEMOLOGY, SPACE, THEORY
---
Frédéric ALEXANDRE, Alain GÉNIN, Michel GODRON, Michel LECOMPTE. Distribution of plants and organisation of vegetation. (5 fig.)
The plethora of vegetation classifications can be disconcerting for phytogeographers, particularly as the concrete application, notably cartographic, of these classifications is disappointing once they try to go beyond mere vegetation description. Classifications based on the idea of floristic communities superposed on «ecological stations» are probably not the best starting point for an analysis of the spatial organisation of vegetation, despite the work of phytosociologists. In fact, numerous ecological factors that condition the distribution of individual plants vary gradually in space, and the composition of flora, which subtends the organisation of vegetation, varies with the same gradualness, and it is often not possible to set boundaries within the floristic continuums. The model of faceted continuum seems to render the overlapping of local-scale ecological or anthropic mosaics with the general climate gradients.
keywords: BOTANICAL CONTINUUM, CLIMATE, MOSAICS, PHYTOGEOGRAPHY, PHYTOSOCIOLOGY, VEGETATION
---
Corinne THOMAS, Paul VILLENEUVE. Commuting in the Québec Metropolitan Area: gender, family and residential location. (3 tabl., 2 fig.)
Using individual level spatial data derived from an Çorigin-destinationÈ survey of 21 000 households in the Québec Metropolitan Area in 1991 and integrated in a geographic information system, this study shows that the residential location of households is an essential intermediate variable mediating the influence of family status and gender on work-trip length. Family status variations in journey-to-work patterns are related to the particular residential location of different types of households, including rapidly growing types such as working couples, single parents and lone persons. Because of the central location of the major work places in the Metropolitan Area, we observe, for different types of households, a significant correlation between average work-trip length and average distance from the center of the city.
keywords: COMMUTING, FACTORIAL ECOLOGY, FAMILY STATUS, GENDER RELATIONS, QUEBEC METROPOLITAN AREA, RESIDENTIAL LOCATION
---
Hélène GUÉTAT-BERNARD. New links between town and country: multiple attachment and the spatial and labour mobility of the rural-dwellers in the Nile Delta
The recomposition of the rural economies and societies of the Nile delta is similar to that occurring in rural areas in other countries of the South (such as India) and even of the North. Rural workers take advantage of attachment to more than one economic area and combine agricultural and non-agricultural incomes to secure themselves a mooring in the village. Increasing value is placed on this mooring, as the employment market is uncertain and life in the city is feared or at least no longer seen as a dream-world. Thus, in spite of high rural density and absolute population increase, rural areas are proving their dynamism in an unstable economic context. The study of these fragmented lived spaces suggests a need to investigate the idea of a functional duality between rural and urban areas. This issue is of vital importance for the future of third world metropolises and regional planning.
keywords: CIRCULAR MIGRATIONS, EGYPT, LIVED SPACE, MULTIPLE ACTIVITY, URBAN-RURAL
---
Geneviève CORTES. Migration, mobility systems and life spaces: in search of models. (8 fig.)
The migration patterns of Andean peasants in the Bolivian highlands (region of Cochabamba) call for a new approach to migration based on three key concepts: the mobility system, the socio-spatial network of emigration and the socio-spatial life sphere. This article is based on an example of internal migration and an example of external migration and suggests a model of space utilisation that recalls ancestral practices of pre-Hispanic Andean society. The migrant, who does not wish to leave his land, broadens his life space by basing his subsistence logic on a complementarity of places and diversification of economic activities. These migratory strategies, analysed from the places of origin, take root in the community organisation of local societies while adapting to the national and international spheres.
keywords: BOLIVIA, MIGRATION, MOBILITY SYSTEM, PEASANT SOCIETIES, SPACE USE
---
Laurent GRISON. The «ageing of places». Photographing, describing, writing
Photography is often used to show change in a landscape. The method is not a new one as several experiences have proved. The most original is that of the writer Georges Perec who mixes literature with geographical observation. He devises a personal approach to the «ageing of places».
keywords: LANDSCAPE, LITERATURE, PEREC, PHOTOGRAPHY, PLACES
---
L'espace géographique 2/98


L'espace géographique 4/98

L'Espace géographique: contents
---
Last modified: August 18, 1998