LE SPORT
Atlas de la Polynésie française, Paris, ORSTOM, planche 105.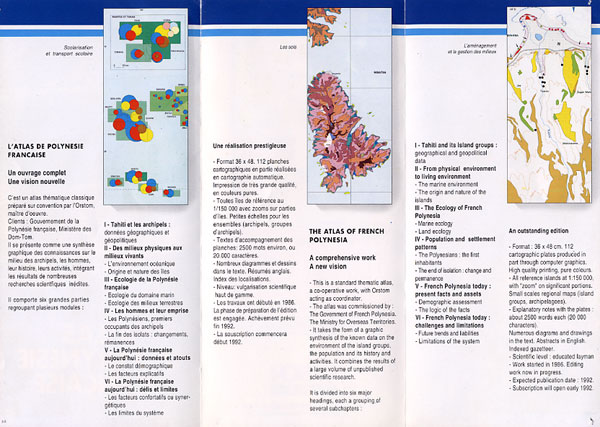 Abstract Map 105
French Polynesia and the sporting life
Analysis of the South Pacific Games results reveals the sporting identity of French Polynesia. As a theatre for much colonial rivalry, the South Pacific also shows divisions where sport is concerned. Three "cultural" zones of the sporting tradition, closely reflecting political and religious history, emerge: British, North American and French. Their boundaries can be deduced from the success recorded by states or territories in sports played only within specific zones. The French territories, for example, share supremacy in volleyball and football. These results give food for thought about what sports or sporting facilities are on offer. Quality facilities are costly, and for most of the countries in our area, sport is not one of the priorities. The French territories have a fine sporting record. They have won half the medals awarded so far although they only represent 7% of the region's population. Such success cannot only be explained by the external assistance they receive from France; they distinguish themselves in sports where competition is fierce (athletics, swimming, sailing).
Competitive physical games were played in ancient Polynesia. After its introduction to the territory late last century, sport only developed gradually and did not take off until after 1945. Sport reverted to territorial jurisdiction in 1984; in 1988 the Ministry of Youth ans Sports managed a budget of F CFP 565 million (FF 31 million), four times more per head than in mainland France. The infrastructure is of a high standard but is unequally distributed. Papeete urban district accomodates a concentration of facilities (athletics stadia, olympic swimming pool, cycling stadium) whereas some islands boast nothing more than a football pitch or a small games field or, in some cases, nothing at all.
Unequal access to sport marks this island context. Nevertheless, 1988 saw 900 sporting associations and 34,000 registered players in the Territory. Divergent sporting habits are however evident: in urban Papeete recreational sporting pursuits desirable to the expatriate population account for a lot of activity, while new sports are also being introduced there. Elsewhere, volleyball and football keep their popularity, but sportsmen and women lack motivation because there is not enough organised competition.
Population pressures and the economic context bind sports and outdoor activities to social concerns. Three school sports associations share responsibility for young people. The Social Affairs Department too arranges sports days during school holidays. Youth organisations offer outdoor pursuits. The many and active churches in the territory play an important part here.
The recreational aspects of sport should not overshadow the fact that it has become a promotional instrument for French Polynesia. Sporting activities are organised for tourists. The concurrent revival of traditional competition such as outrigger canoe racing is a form of identity affirmation. The emerging sporting autonomy of the territory could become hard to reconcile with French support in this sector.